How some serious advertising and a love of pink can make you a Hollywood icon...

This...
Is...

Angelyne.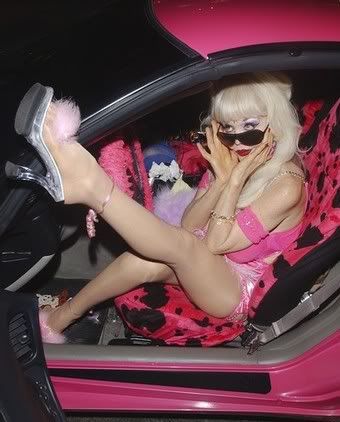 As the election for a seat on the 5th District Council heat up, candidates are promising a crack down on supergraphics and billboards that now populate an area that encompasses West Hollywood to Beverly Hills - premium advertising space. However, there's one billboard that hasn't disappeared from the landscape. The 'Billboard Queen of L.A' would never do that to her fans.

Any L.A. local can tell you, Angelyne is most famous for her pink predilection - she drives a pink corvette with vanity plates that read "ANGLYN" and carries around a dyed Maltese pooch; both of these secondary to her numerous billboards found across Los Angeles, featuring her propped on a feather boa, in a sequined bikini with shoes to match, all pink.

A Google search reveals that she has appeared in over a hundred films, music videos and television shows, and managed to release three self-proclaimed successful albums. Somewhere in the 80's, she appeared on the scene through a series of billboards featuring her in different poses. By 1982 she was so recognizable that people would stop her to take photos, and she appeared as a guest on the late night show
Thicke of the Night
with host Alan Thicke (of Canadian fame and only known to those who grew up in the 70's). In the 90's, she performed at special events, such as the New Year's Eve celebration at Cherry in 1999, the raucous spot that reigned Hollywood's club scene from 1994 to 2001. Today, she is rarely seen in person. Most sightings are of her Corvette parked off Sunset Boulevard or a rare stop at the seven-eleven captured by TMZ or Hollywood reporter - a tiny blond antiquity wrapped in fake-fur.
As she tells it, she maintains "the glamour of classic Hollywood." "My image is seductive and sensual without being campy or burlesque. I carry on the tradition of the Hollywood Blonde Bombshell in my own unique way and I'm very proud of that." General knowledge says she's the wife of a billboard magnate, but she denies these reports and says instead that financial support comes through private investors, and 'countless' offers for interviews, star appearances and features in music videos. The reason for all she does? Inspiration to others. Whatever the dream, you can conquer all odds.
She's not complacent to be pigeon-holed as just a billboard star. She wants the world to know that she's a true performer - a dancing, singing, glamorous throw-back to good old Hollywood. Not so much. She is seen around town in mini skirts and hooker shoes, four-inch heels carved out of clear plastic, and stalked with perverted intrigue. She looks more like Mary Ann from Gilligan's island aged 40 years with bad plastic surgery than an elegant Lauren Bacall.
Kitschy or not, her billboards look dirty and worn. Times are tough. However, she is relevant to modern Hollywood; she marks its backdrop and peppers its history. Though her fifteen minutes seem to be coming to a close and her iconic fame revolves more around her erratic behavior than God-given hotness, she is another Hollywood dream come true.