What would Americans do without their imitation European cafes? Sitting among grossly expensive imported items and white linens, served by snobby waitstaff, and ordering off a pricey menu whose items manifest in servings the size of tuna cans (no, smaller). Americans, and Angelenos can maintain some level of denial that what they are experiencing is a small slice of foreign European bliss, at home. Such is the destiny of
The Little Door
, a tucked away cafe off of 3rd street. French accoutrements abound in the form of bright cobalt blue walls, menu's written on chalkboard and mirrors, waitstaff in crisp white shirts or striped tees (think your local venice canal boat guide), canned homemade jams, an assortment of organic teas, coffees and plenty of pastries and colored macaroons. There is an outside covered patio, shrined in leafy vines, and small vases of fresh wildflowers sit on each table; while the inside is awash in white light from outside and the back wall showcases a selection of available wine for you to purchase. The effect is a cafe that is both old world and modern, and very charming with all its European references.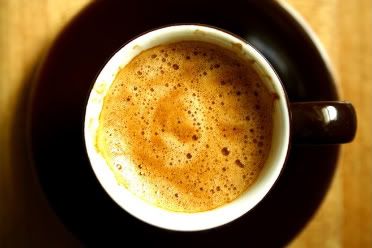 The upscale clientele buzzes; with lunching ladies, business meetings, and the interruption of model-esque women running through to pick up a quick bite to eat at the deli. This cafe is obviously an enjoyably secluded spot. I'd say the patrons are as charming as the gold filigree detailing on the teacups.
My disappointment showed up in the form of the succint and only slightly titillating menu. There is very little to say about the menu, hence the reason I left out mention of it. The Little Door offers organic helpings - among them, ginger salad, Quinoa and Salmon. I decided to order the chicken salad however, hence the cautionary note on healthy. The chicken mixture is a little heavy considering the mayonnaise they put on it, and topped with a white roll, I'm pretty sure it's resting place will be in my arteries.
I enjoyed the atmosphere and the cafe's lack of pretense, but a cafe really hits the spot when the food is as enjoyable as much as the atmosphere and energy. A future visit will not be planned, but if I end up here again, I hope the bad taste left in my mouth will have gone the way of the dinousaurs.