To stand outside the doors of a luxury designer boutique in Beverly Hills is to be engulfed in waves of frigid air conditioning and tempted by immense spaces draped in cashmere and diamonds. Such is the life of the wealthy. Such was my walk on Saturday.


With my sister in the hands of my favorite stylist at Umberto Salon off of Canon Street, located parallel to Rodeo Drive, I decided to take a walk around the clean and very pleasant neighborhood - I had some time to kill. Rodeo is essentially one street of highly expensive luxury designer boutiques mobbed by tourists and celebrities alike (albeit less often as paparazzi are to be found lurking behind cars here), but there is nothing that competes with it's tranquil atmosphere on a sunny afternoon in L.A.. First, the parking here is generous, as there are several underground parking lots (so as not to disfigure the landscape), offering two hours of free parking. Restaurants abound, many noted for their famous chefs and gorgeous food along with their high-end clientele. There are the Beverly Hills locals, who seem crisp and fresh next to their tourist counterparts wearing khaki pants with camera in hand. Many languages are spoken here: French, Japanese, German, whom I often mistake for Americans, as they too wear Khaki's and cameras (I'm working under the assumption that Europeans dressed up). Starline Tours, a bus service to tote tourists about town, glides through the street every so often, and you can hear its director describing the sights for his passengers. His passage is quick and rarely disturbs. Today, there is a small kangaroo on the street, fenced in and with a collar, to promote Australian tourism. He paces back and forth and nary notices the dogs who try to sniff him through the fence or the pedestrians petting his backside. He is very soft. Then, there are the shops.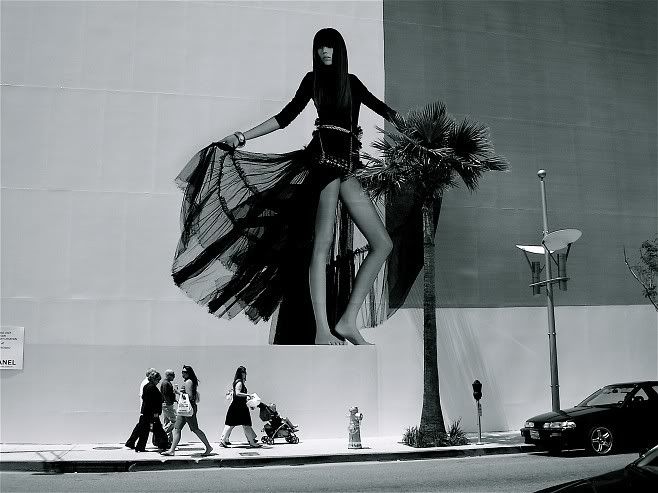 Photo by Tom Drury

Obviously not a mistake, the boutiques are everything you'd want them to be and what you really come to Rodeo drive for. Their ostentatious luxury is intoxicating. I feel giddy being so close to clothes that take hours to make, cut from quality high-end fabric tidily cut for the best fit and shipped from Italy and France. MaxMara, Versace, Gucci, Michael Kors all have their doors open wide to reveal racks and tabletops offering cashmere scarves, crocodile heels and tailored suits from Fall and upcoming Spring collections. Security guards stand erect in front of their doorways. I pause just briefly in front of these stores, the air conditioning pumps waves of cold air towards me, welcome in the heat of the afternoon, immense ceilings dwarf the people inside, the inventory is intimidating - I rarely put my hands on threads so fine.

It's a great time to shop here because even designer stores have marked down their merchandise. Although, an $8,000 dollar jacket is still expensive at $4,000. Wolford lingerie, noted for their selection of hosiery and a brand that is replicating Chanel's two-tone tights from their most recent shows, has a shop here and sadly so does Juicy Couture, a store I abhold because I see mostly whiny teens gather here begging their Fathers for cash. Chanel is the most quiet...Versace the most opulent...BCBG the most modest in space and design...and Sharky's Mexican Restaurant (it's really sit down fast food) the cheapest place to eat.



Photo by Mynhardt Van Pletsen

Most stores have chosen a palatte of white or black, draping their walls in either color to open the space or make it intimate. White feels luxurious, black feels like a secret. Chanel picks a black backdrop to highlight their diamond encrusted roses shining in display windows leading to their front doors. It's breathtaking. Lily Allen recently sang, "I want fuckloads of diamonds," she might start here. Sales employees are generally genial and willing to help you shop. Since I am partial to just sorting through clothes myself, I appreciate that I am left alone through most of the stores (but maybe it's obvious I'm not looking to buy). All in all, it's a richly quaint village, and for a day, I feel as though I'd rolled in 1,000 count bedsheets but without the price tag.