While walking around the office today, I realized that my underwear were not working for me. It was riding and rubbing in all the wrong places, in addition to creating panty lines I hadn't seen after getting dressed this morning; and those are never good (I don't need four butt-cheeks, just the two). Lucky for me, there is a conveniently located Victoria's Secret nearby. So, at 11am this morning, I took a quick break to resolve my situation, jetting over to Vicki's in search of some comfortable underthing.
Upon entering the store, my eyes fixated on every kiosk with panties in sight, I did not notice the commotion going on inside. Then, I turned away from the drawers I had been rifling through and looked up, and before me sat the most famous Angel of them all - Heidi Klum - surrounded by a (surprisingly) small crowd of tween girls getting their photos taken with the model. Paparazzi stood by.
Turns out, Ms. Klum was there to pimp her new makeup line, and proceeded to apply makeup throughout the day on girls such as the one below (not me). I got these frisky snapshots with the help of a friend's iphone.....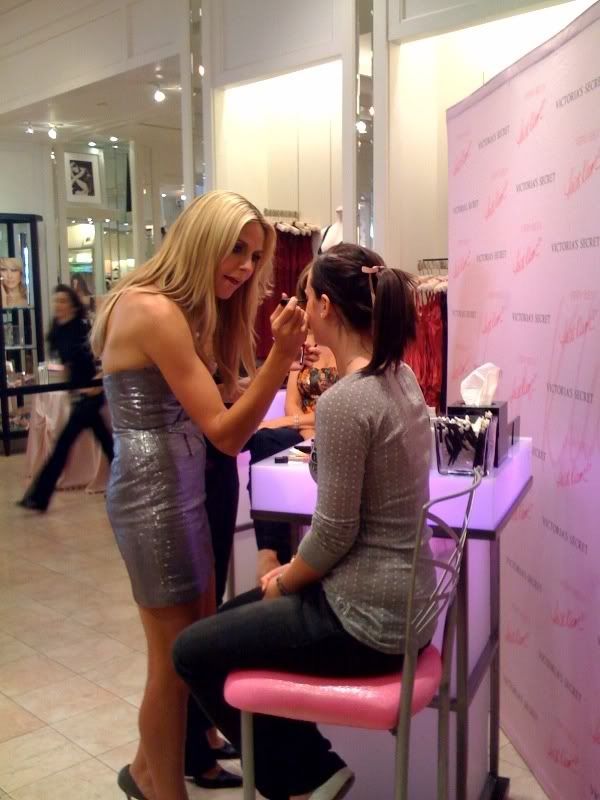 Luckily, I found my saving grace and left the store with little fanfare. Woo-hoo!